Hair salon Ohno also offers a bridal menu.
For a beautifully shining wedding once in a lifetime
Careful skin care as well as shaving
Bride is in the best skin condition
We help you to shine at weddings, pre-shoots and parties.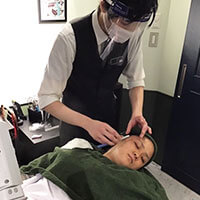 Face shaving
45min ¥5,500
Face only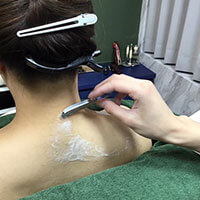 Neck shaving
15min ¥2,750
Collar only
Neck / back shaving
40min ¥5,500
First and middle
Bridal  Shaving
Bridal shaving course
90min ¥13,200
顔・襟・首・背中・保湿パック
Body  Option
Decollete
15min ¥2,200
Second arm shaving
20min ¥4,400
From shoulder to elbow
Elbow shaving
30min ¥3,300
From elbow to phalanx to joint
Both arms shaving
40min ¥6,600
Second arm + lower elbow
men´s Bridal Course
Full shave + eyebrow cut
¥5,500
Shaving your face and designing eyebrows
Shampoo set
¥3,300
Hair set for the ceremony
Shampoo shave + eyebrow cut + set
¥8,800
It is a set of the above 2 courses
Men's bridal nails
¥4,400
Nail polish cut filing
Lift up facial course
¥4,400
We will lift your face for the advance photo
Men's bridal makeup
¥3,300
Hides pores and wrinkles
※表示価格は全て税込み価格になります。
Q&A
We will answer various questions related to shaving.
How is it different from shaving yourself?
A barber who has a national qualification will shave the three-dimensional parts (small nose, mouth, around the ears) and other hairs that are difficult to shave by yourself. The finish is very different from smooth skin and makeup paste.
Compared with Westerners, Japanese hair is brown. By shaving evenly with reliable technology, it has a beautiful skin effect that makes your skin look white with a mirror-like shine and transparency.
Can any kind of skin be shaved?
A barber with a national qualification who has cleared both hygiene and technology will provide counseling and propose the best treatment for each skin type. Please contact us once.
Isn't it have thick downy hair when shaved after?
I'm sure you'll hear it ... this is a complete misunderstanding.
By shaving, the hair cross-section just looks and feels thicker. As another effect of shaving to shave the hair, there is a light peeling effect that removes old keratin together with the hair. By being reborn as a new skin, the metabolism of the face can be activated, and the effect of creating transparency on the skin is appreciated.
How many cycles should I shave?
It is said that the period of hair growth and the regeneration cycle is about 4 weeks (28-day cycle), so we recommend it once every 4 weeks. Please relax and experience once in a month with a sense of beauty and enjoy the excellent skin benefits of makeup.
Can I leave my makeup on?
We will cleanse, so please feel free to visit us as usual.
Our basic cosmetics are "Ajuban Cosmetics" and "Orlane" that can be used with confidence even for sensitive skin, but we can also use them for finishing. Please bring your own if you are worried.
Can I make up after shaving and go home?
After shaving, skin metabolism is activated and makeup such as foundation is not recommended, but if makeup is necessary, please consult in advance.